Introduction of me! aka hello from the Netherlands
Hi everyone!
I finally got stoked too to get up and running with this DIY madness!!
This is me: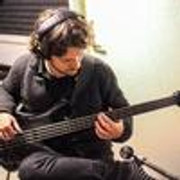 Paul, bass/guitar player and vocalist from the Netherlands. In my search for a good solution for the session works, bigger gigs and customization options I finally came down to fEARful and I'm very eager to start the projects!
Currently I'm playing in two bands: Sequoyah (also known as SQY Rocking Team - at least in the Netherlands and some parts of the UK...) and in Moon Zebras. I also play some session work now and then.
I'm trying to find a good 'how to' and support for my first build which probably is going to be a 1212/6/1 since my feeling is that it's the most versatile option. At least for my current needs... Later on I might want to fix another smaller one, but for now: 1212/6/1 it is of course it's gonna be in ZEBRA tolex. Oh and the best part? If it suits me well my band member (Alex) wants one too so we have matching (zebra) cabinets at Moon Zebras! Awesome, right? I know!! haha but serious: sound and versatility is key.
Thanks all!!